The Leading Hard Money Lenders Georgia for Real Estate Investment Properties
Hard Money Lenders Georgia for Real Estate Investors
As the leading Hard Money Lenders Georgia, Hardmoneyman.com LLC lends to real estate investors throughout the state. Specializing in fix and flip loans as well as rental loans, we have closed over 3,000 hard money loans in Georgia since 1998, making us one of the oldest hard money lenders in the country. Regardless of what part of Georgia, we are the go-to residential hard money lenders Georgia thanks to our ability to close quickly.
We pride ourselves on being second to none in understanding all real estate markets that we lend in, and understanding the borrower's objectives before putting together a loan proposal for them. We offer loan amounts from 50k to 10M.
Our niche is single family residential (except owner occupied), to 4 unit residential properties that you are either going to fix and flip or buy and hold as a 30 year rental (cash out on these too!), or ones that you are building (ground up construction). We will look at 5+ unit apartment buildings that are in need of rehab or are stabilized.
It doesn't matter if this is your 1st investment property, or your 100th, we are here to make loans to borrowers with all kinds of experience, let us show you why we are the market leaders for private hard money!
When real estate investors in Georgia are in need of fix and flip loans, rental property as well as rental portfolio loans, 5+ unit multifamily bridge and 30-year loans, and ground-up construction loans, it turns out the #1 choice for Hard Money Loans in Georgia is HardMoneyman.com LLC.
We Lend in:
Atlanta, Columbus, Augusta, Savannah, Athens, Sandy Springs, Roswell, Johns Creek, Albany, Warner Robins and all cities in Georgia
This is where we separate ourselves from other lenders, we under promise and overdeliver time after time! You speak with a decision-maker on all phone calls and by email (you can even text us too!) not some account executive that is just reading off their product matrix and hoping to fit your loan in their box.
From Atlanta to Augusta, Hardmoneyman.com LLC has helped real estate investors from new to experienced achieve their investment goals. Regardless of your location in Georgia, Hardmoneyman.com LLC is there to help you achieve your funding needs.
Our quick and efficient process from intake to underwriting to closing, and then draws done in-house with our construction team, make us the market-leading hard money lenders in Georgia.
Contact us today and discover why we are the premier lender for Georgia real estate investors. If your looking for the best rental markets in Georgia, this is a great place to start, click here to see the top markets for 2022.
Don't make the BIG mistake of trusting just any hard money lender in Georgia for your deals. Hardmoneyman.com LLC is #1 in the industry for hard money loans in Georgia for a reason.
We close! It's that simple.
Georgia has some of the hottest real estate investing markets like Atlanta, Norcross, Sandy Springs, to Savannah. HardMoneyman.com LLC has closed loans for rehabs, ground-up construction as well as rentals in all of them!
If your a new investor, intermediate or experienced, local REIA meetings are a great place to hear new strategies, meet local wholesalers, other investors (possibly a new partner?) or just further your education. Here are some local meetings we recommend:
Georgia REIA
Atlanta REIA
Hard Money Lenders in Georgia – HardMoneyMan.com 
Georgia's #1 hard money lender for real estate investment since 1998 is HardMoneyMan.com LLC.  We finance investment opportunities throughout Georgia and can be a huge help to investors seeking fast closings.  We know that speed is your friend as an investor which is why we average 7 day closings on fix and flips in Georgia, 10 day closings on new construction and 14 day closings on rental loans.  
What Makes HardMoneyMan.com LLC Different from Other Hard Money Lenders in Georgia?
Experience – we have been lending since 1998 and have made over 25,000 loans to real estate investors like yourself. We take pride in our market knowledge, our loan program knowledge (not some order taker kid that has to find out what they can do for you). We do NOT just fund any deal, it has to be a profitable deal for our borrowers, as your success turns into our success. 
Reliable and responsiveness – Ever try and reach one of your other lenders at 7am on a Sunday, only having to wait til Monday to get a reply (if your lucky)? We are available 7 days a week to answer your questions, price your loan out or just figure out if our loan programs are for you. The days of working with lenders that work 9-5 bankers hours are long gone. If your lender works those hours, do you really want to work with someone that isn't available at 7pm on a Tuesday? 
How do I know if Investing in Georgia Real Estate is right for me? 
When looking for the right deal, be it a rental or a fix and flip, when I buy properties personally, I look at several factors to see if this deal is right for me
Risk Return – what is my cash on cash return on a deal? See the chart on the right, this is what I personally use to review a deal and find out my return on investment on a fix and flip. When I evaluate a deal, I'm looking for a minimum 40% return on my cash investment. As you can see, in this deal, my cash on cash return if held for 12 months, after paying closing costs, holding costs including monthly interest payments, and then all the fees to sell this property, my return on cash investment would be 25%.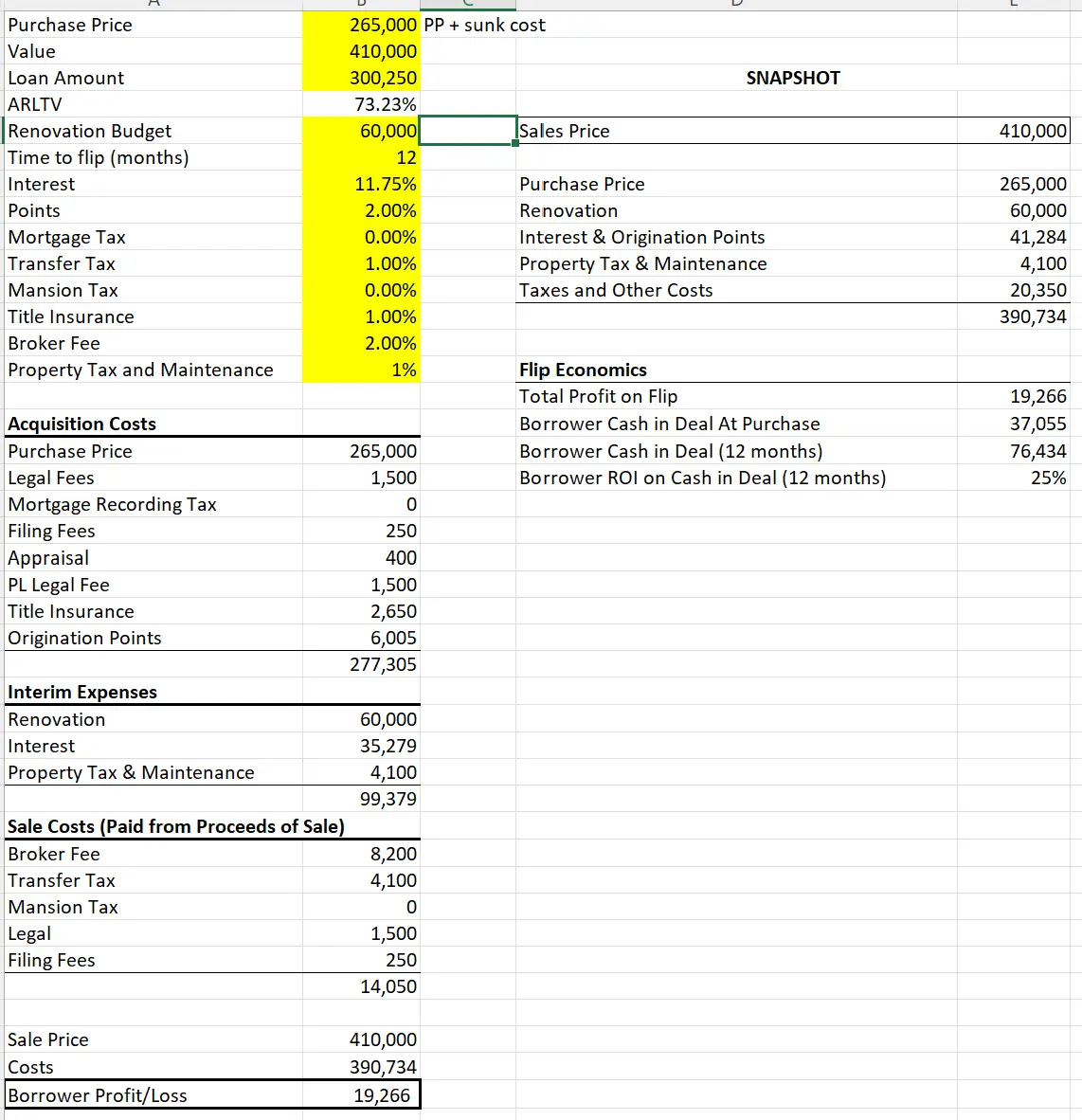 Why Choose Hardmoneyman.com LLC as your Georgia Hard Money Lenders? 
We're in the Business
We've rehabbed, sold and rented investment properties ourselves. We know what to look for so you can be confident that your project will result in profit. 
We're a Direct Lender
We loan the money. We don't find the money form someone else. This means you can rest easy knowing that if we approve your loan, it's going to get funded. No surprises.
We're Fast and Efficient
We can give you preliminary approval in as little as 24 hours and have your loan closed and paid out in less than 7-10 days. We're one of the most efficient hard money lenders in Georgia.
We're Investor Focused
We consider you our partner and we want you to make money. We make it a point to look at our loans from all angles to make sure you're going to get a fair return. 
My company has closed over 5 deals with Ken Vesely . He's very knowledgeable and will get it done . Good communication and responsive!
Demetri Williams
2021-04-09
This is the best lender I've used for all my deals. Very fast and efficient. Never any glitch always a smooth sail to closing. Don't waste your time using someone else.
I have closed multiple deals with Ken. He's to the point, very straight forward and won't lead you on. He's helped guide me along the way. I will always recommend him to my friends and I will always use him for my deals.
This was my first time using any type of hard money financing so I had tons of questions along the way. Ken answered every one and even helped me out a lot with great recommendations as far as building my real eatate portfolio. Look forward to working with him on future deals and would recommend. No nonsense. No bs. All buisness!!
The experience my husband's and my company (Kingdom Realty, LLC) had with HardMoneyMan.com, LLC/Ken Vesely was five-star, from our very first interaction to closing. Ken is efficient, responsive, transparent and extremely knowledgeable. He kept his word on all things discussed, with no surprises along the way, which is extremely important with matters such as these. This was Kingdom Realty LLC's first experience with a hard money loan. Ken took the time to answer all of our questions and taught us a lot throughout our loan approval process. We closed our deal in less than 30 days; and would have closed sooner had it not been for the holidays. We are very much looking forward to working with HardMoneyMan.com LLC for our next deal, and strongly recommend this company to others looking to invest in real estate, close a deal quickly, and learn some tips along the way.
Christian Rodriguez
2020-10-22
I have worked with Ken multiple times and every transaction was a breeze if I have to recommend a straight forward Hard Money Lender, Ken is the man to go with
Christina McCann
2020-03-03
Great company great experience
Dealing with Ken and his team is flawless. The process is very streamline from start to finish with excite communication throughout the process
Get Approved For A Hard Money Loan in GA
Simple and Fast Application Process